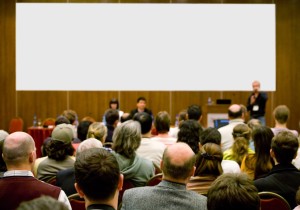 Hosting an educational or informational seminar or webinar can kill two birds with one stone: It's a great way to get in front of a room full of prospects while also branding yourself as a local expert in your industry.
You've no doubt attended an event in person or participated in a webinar where you were enthralled by the speaker. When a speaker takes the stage, there is a perception of expertise and authority. For a brief time, they command the attention of their audience. Seminars and webinars are consistently used to share information and educate an audience about numerous topics. We highly recommend them to attract qualified prospects—and convert them into clients.
So, what is it that attracts an audience in the first place? Let's assume they don't yet know you. Your goal is simply to get them in the door or online so they can be exposed to your expertise. The answer: a unique and compelling topic. If your topic is like everyone else's, its effect is lackluster at best. The more defined and specific the topic, the more attention you can command and the more likely your audience will be qualified. After all, you're not seeking thousands of people who wish to know the 'basics' within your industry. You're seeking a few ideal customers who are in the market to make a decision now.
Let's take a look at one category of clients we serve, real estate agents. Most agents who have used seminars & webinars as a marketing tool promote broad-range topics such as a "First-time Homebuyers Seminar". The target audience for that kind of topic is anyone who fits the bill of a first-time buyer, even if they plan on waiting years to make their first real estate purchase. The topic lacks a specific focus to draw in people who are in the market to cat now. As you create your topic, think about three things to help you make your topic much more specific:
What specific knowledge is your ideal customer seeking? And what knowledge do you possess that they might not even know they need?
What is your point of differentiation? What do you know—or do—that sets you apart from every other competitor in your market?
What's topical? What's applicable to your ideal customer right now in your marketplace?
When you define these things, your signature speaking topic should become clear and more poignant. Let's take a look at how we can modify general topics such as 'First-time Homebuyers Seminar' to become much more compelling in order to draw in a more qualified audience. Sticking with the real estate industry to continue our point, here are some categories and specific topics to consider:
Be Specific To The Resources:
"How To Buy Your First Home With No Money Down Using a USDA Loan"
It's no secret that credit scores are not what they used to be, and this applies to older prospects as well as younger first time homebuyers. New creative lending resources are an excellent means of helping someone purchase a home, and sharing your knowledge about this can be an extremely effective way to get new clients. For a stronger presence and an opportunity for faster conversion, bring in a lending professional as your partner.
Be Specific To The Audience:
"First Time Homebuyer Seminar for Teachers"
We've spoken with several agents this year who would like to focus on prospects within their daily sphere of influence, their local school system. What better way than to host a session specifically for teachers? And while the process may be the same as it is for most prospects, focusing specifically on teachers will make it much more meaningful to that audience and also set the stage for teacher-to-teacher referrals. In most cases, you'll have more business than you can handle in just one category if you do it well.
Be Specific To The Area:
"What You Need To Know When Buying a Home In a Golf Course Community"
When seeking a home, most buyers already know the areas they'd like to consider, especially when it comes to upscale living. Golf course communities and waterfront properties are usually near the top of this list. If you are knowledgeable about a specific neighborhood or community, use that expertise to help people learn about existing homes, new construction, sought after lots, association fees, rules and regulations, etc. The more exclusive the area, the more the buyer prefers to work with someone who has clear and specific knowledge of that area.
Be Specific To The Property Type:
"What You Should Know About Down-Sizing To A Condo or Townhome"
Condos and townhomes are an excellent choice for many people who prefer their community aspect, a wide array of amenities and, of course, less maintenance and upkeep versus a traditional home. For those seeking this choice for the first time, you can become a tremendous resource. This 'down-sizing' topic mostly applies to empty nesters and/or those entering retirement age; however, you can adjust the topic to suit a different audience if needed, such as young professionals who travel often and prefer a lifestyle of low-maintenance living.
We hope you make seminars and webinars useful in your marketing efforts. Not only are they strong lead generation tools, but they have the ability to extend your personal brand as an expert in your industry in ways that many other forms of marketing cannot. They can get you face to face or voice to voice with your specific and ideal prospects. Although the particular topics in this article focus on the real estate industry, keep in mind that the principle behind making topics very specific applies across the board. A compelling topic is the first thing that catches a prospect's eye and makes them feel that you have specifically targeted them with your expertise.
View our similar article on REALTOR® Magazine Online


☆☆☆☆☆
If you're searching for a unique way to stand out, you may be interested in our FREE WEBINAR, "6 Secrets To Creating An Iron-Clad Position In Order To Out-Market Your Competition & CLAIM THE #1 SPOT IN YOUR MARKET". Choose the one that fits your profession!
For Real Estate Agents
For Entrepreneurs & Business Leaders