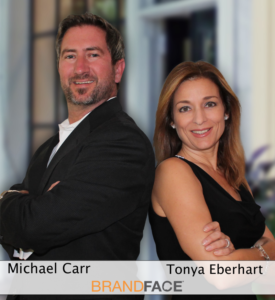 Personal Branding Experts from BrandFace® Debut at Convention Expo With Two Social Media/eMarketing Workshops for Dealers (Fairfax, VA) In many family‐owned dealerships, the owner is the face of that business and his or her personal brand could be just as important as the public profile of that business. Personal branding experts Michael Carr and Tonya Eberhart of BrandFace® will be presenting two workshops about the role of personal branding in today's marketplace and how to manage it across all platforms. Both are new to this event.
The 2016 RV Dealers International Convention/Expo takes place Nov. 7‐11 at Bally's in Las Vegas. There are ten workshops in the Social Media/eMarketing track for 2016. Dealers who register by August 30, get the low, advanced registration rate for the premier education and networking event for North American RV dealers.
Eberhart, who started BrandFace®, is a successful speaker and author whose mantra is, "people don't do business with a logo. They do business with a person." Her specialty is personal branding designed to help business owners become "the face of their business and a star in their industry." Carr is Eberhart's speaking partner and co‐author of BrandFace® along with Eberhart. He is an entrepreneur and 'America's Top Selling Real Estate Auctioneer.' Carr executed BrandFace® concepts so well as a client that he transformed his business to become a sought after brand in North Georgia, and eventually a partner in the company.
"Personal Branding and Social Media" set for Wednesday, Nov. 9 from 9:00 to 10:00 a.m. will explore how much personal promotion is too much and how a social media platform should be customized to suit each purpose. The session will cover how to respond to customer comments and complaints as the face of your company. After attending this program, participants will be able to: (1) distinguish personal pages versus company pages, (2) understand brand customization of social media platforms, and (3) utilize content and engagement recommendations for social media platforms.
The afternoon session, scheduled for 3:15 to 4:15 p.m., "Six Elements You Need to Become the Face of Your Business and a Star in Your Market" is ideal for dealership owners who are‐or wish to become‐the face of their business. In every market, there is generally ONE company that stands above the rest in each industry. Often, those companies are number one because they have a personal connection with their customers. Learn how personal branding impacts business growth and the main principles behind an ironclad brand and position that takes the number one spot in the market. Key takeaways include the ability to: (1) understand what it really takes to be the recognizable face of your brand, (2) employ the main principles behind creating an unforgettable position in your market, and (3) extend your personal brand to all your marketing platforms.
The convention is sponsored by RVDA–The National RV Dealers Association, RVDA of Canada, and the Mike Molino RV Learning Center. The convention will also feature an expo of the RV industry's top companies offering products and services to help dealers improve profitability. Companies interested in partnership and sponsorship opportunities and exhibitor information can contact Julie Newhouse at (703) 364‐5518 or send an e‐mail to jnewhouse@rvda.org.
Visit www.rvda.org/convention for regular updates as the convention approaches.  You can also get convention updates on LinkedIn, Twitter, and Facebook