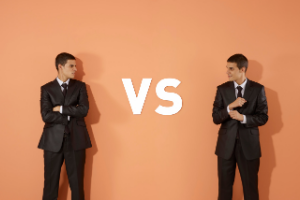 Are you a broker who is concerned that your agents are promoting their own brand instead of yours? Or an agent who is torn between promoting the brokerage or your own brand? These four thought provoking statements will change your perception and help you to understand and  handle either situation.
YOU ARE YOUR BRAND.
Whether you are a broker or an agent, you are your brand. A broker's business is built on what you stand for, what you have worked for, and what you want to be known for. Your ideals, ethics, and the way you do business are all crucial to your brand. This may be slightly or vastly different from what your broker or agent stands for, and that's why it's critical to express what sets you apart individually. 
YOU ARE BUILDING A CULTURE.
You are building a culture of people who believe in the product or service you deliver. Brokers are not only representing what they stand for, but are also representing the culture that they wanted to build within their brokerage. Your agents will represent your culture while adding their own brand value. 
Agents, on the other hand, must consider a brokerage to work with every day. You should look for a culture that aligns with your ideals and desires. Pick a brokerage that is going to personally invest in you. Especially if you are recently starting out as an agent, you want a broker that will invest time, money, and effort in you. You will also want to clearly identify your own brand and ideal customers inside the brokerage culture that you're joining. Smart brokers know that if you are building your brand, you are also building the brokerage's brand.
YOUR BRAND IS A SOLDIER.
As a broker, your brokerage is only as strong as the people who represent it. Your culture and brand can be maintained and extended by hiring the right agents and allowing them to promote their own strengths. Your agents are actually continuous soldiers for you. As long as they fit into your culture, they do not necessarily have to match everything that you do or stand for. Agents can soar with their own strengths and stand on their own merits, which ends up building upon the strength of your brokerage.
As an agent, your brand is a soldier that works for you constantly. Your brand will extend to your customers and your peers, and can even make you money while you sleep. Your brand is an entity that precedes you as long as it is defined, developed, and displayed very well. An agent's brand is something people can see and interact with, even when they cannot be there in person.
THE ANSWER IS PROMOTE AND PROTECT.
Brokers should have their brand well-defined, developed, and displayed so that it not only attracts their ideal customer, but it also attracts the type of agents that you want to be a part of your culture.
Agents may ask themselves, is it really possible to promote your own brand while still abiding by the regulations? The answer is a resounding yes. You do not join a brokerage because you put it before yourself, but rather because they are the ones that are going to look after you. You can promote your brand and protect your broker's brand simultaneously – take both brands  everywhere that you go with pride.