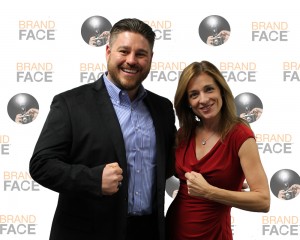 Pulling into the 67-acre lot that is home to Ricart Mega Mall (arguably one of the country's most successful car dealerships), I'm immediately reminded of the family connection. A large sign at the security entrance displays a smiling Rick Ricart, a third generation auto executive and newest face of the brand. The Ricart family automotive business began in 1953 when the late Paul Ricart bought a small Ford dealership in Canal Winchester, Ohio. Years later, Paul's sons (Rhett and Fred) carried on the tradition and grew Ricart Ford into the mega dealership that it is today using Rhett's business acumen and Fred's marketing persona. Fred is famous throughout Central Ohio for strumming his guitar during TV commercials, acting out humorous skits and ending each spot with their famed 'We're Dealin'' motto. When I first moved to Columbus, Fred's face and antics were a staple and a stand-out. And today, I have the pleasure of sitting down with Fred's son, Rick, the newest face of the brand. Do I think he can fill those magnanimous shoes? Read on to find out…
Describe your earliest experiences in the car business.
Before matchbox cars and hot wheels came along, my Dad handed down a collection of cars that were 1/32 scale. I played with them for hours. The rarer the car, the more my Dad told me not to touch it or play with it. And of course the more I wanted to take it out of the case. I'm still that way today. I've had a lifelong passion for cars. Not just muscle cars or exotic cars. It's about watching the technology progress, watching a means of transportation that should get us from point A to point B become a lifestyle and a culture with so many options.
Did you discuss business with your father as you were growing up?
My Dad used to tell me that my Grandpa would come home at 6:00 for dinner and talk about work all through dinner, then go back to work until 9:00. That's all he talked about. I think my Dad did the opposite with me because he didn't like it as a kid. He didn't like growing up with his only relationship with his father being about the business. He didn't talk about stuff at home. I'd just see him on these commercials. I'd get teased in the locker room at football practice, and then go hang out with my Dad on weekends, riding four wheelers. I didn't understand why we didn't discuss it. I had to try to find reasons to come here [to the dealership]. My curiosity level was so high. I would come home from school and ask him questions. He used to tell me…don't ask, don't worry about it.
Tell me about the conversation you had with your Dad regarding your role as the next generation BrandFace™?
It was extremely short. Very positive. And I was scared to death. In 2001, my dad, mom and 3 younger siblings moved to Florida. We take pride in being able to react with our marketing and get the new manufacturer's monthly deals out quickly. My Dad usually did those commercials at a studio right around the corner from his home in Florida. One day around 2005, they shut that studio down, and he couldn't get the new commercial cut quickly enough. So I was asked to read part of a radio spot. The people here liked it, and it went on the air. The next thing you know, I started doing some TV stuff, including a very basic 30 minute used car show on cable. Fast forward to November, and by now I'm doing the full thirty second TV spots out on the car lot. My Dad comes home for one of our weekly Monday marketing meetings and at the end of every meeting, we would always walk down to the marketing department to view what's currently on the air. I was scared to get out of my chair. We walked into the room and they played him 3 or 4 commercials in a row. I'm literally shaking, thinking he would flip out. And I remember his response just like it was yesterday. He just calmly goes, "Hmm…pretty good", and walks out, gets in his car and leaves. I'm waiting for more to happen, and I'm thinking "that's it"? And the baton was passed.
What concerns did you have about being the new face of the brand?
Those are big shoes to fill, number one. My Dad is really a genius. He was a biochemistry major in college and took scientific theories and equations and applied them to things like sales and inventory management. He helped progress the whole auto industry with some of the things that he started. Growing up, I didn't always understand what we did here on a day to day basis. I just knew as a young teenager…I'd go out to dinner with my Dad at Bob Evans and everyone wanted to say hi to him. He'd walk around and take french fries off their plates and play with the little kids' hair. He always said we're really a marketing company that just happens to sell cars. I know how much pride he takes in the marketing, and I couldn't imagine failing in the eyes of my father. I wouldn't want to let him down or disappoint him. I wouldn't be able to handle that.
Fred was known for his guitar, but you have not continued that tradition. Why?
They asked me about keeping the guitar. I didn't want it because I don't play it, and I don't want to play someone I'm not. I want to be who I am. Guitar was sort of forced on me as a kid. It was like punishment to me. And I believe if I had picked up the guitar and got on TV, half of Central Ohio would have said, "He's just trying to be his Dad".
Will you continue to brand Ricart as the dealership most willing to 'deal'?
The only other option is to become a one-price store, and I'll never do that. I've taken the 'We're Dealin'' concept and applied it on the internet. We use a piece of software that researches pricing on practically any kind of car you want, and we make sure that we're already giving that best price right up front. Before, my friends would come in and say, "Rick, I want your price. Give me your price." And I thought, I'm going to set these internet prices myself. Next thing you know, people were showing up and they weren't even asking for a discount because they had done their homework, and they knew they couldn't find it any cheaper.
What's your philosophy on negotiation?
If a deal is twelve dollars higher per month than a customer's budget needs to be, we're gonna do our best to find that twelve dollars somewhere. And the one-price stores can't do that. Once they do, they lose credibility. Now they're no longer one price. I believe we have to help people find a car to fit their budget. Negotiation for me isn't a profit thing. I'm willing to negotiate because it's a correct consumer practice. We're a Central Ohio family based business. It's a different world today, too. Several years ago, dealerships marked up their cars by three or four thousand dollars and they had more room for negotiation. You can't do that today. It's transparent…every bit of information is online. If we don't put our best prices online, we'll never even get to talk to that customer. I want to tell them everything right up front. It's a price I'm proud of. It's a 'We're Dealin'' price.
If you could only be known for one thing, what would that be?
I want to be known as the automotive authority in Central Ohio. The most knowledgeable. Other than that, it's 'Dad'. When I go through those gates at night, I change a little bit, soften up slightly. I have a 7 ½ month old daughter.
Who do you most admire in business?
Fred & Rhett Ricart (my father and uncle). Those two are pretty incredible. Henry Ford. Sergio Marchionne (CEO of Fiat), Alan Mulally (former President/CEO of Ford) and Steve Jobs. I admire innovation and progress. You have to keep moving forward. Any business that isn't growing or progressing is dying.
Was there a mentor who inspired you?
I've had multiple. I have 17 family members (from both Mom and Dad's sides of the family) who are in the automotive industry. And as far as teaching me what not to do, every one of my previous managers over a twelve year period. They taught me the exact opposite of what I believed in. Those managers were strictly profit-driven. They didn't care about people. That's not me.
At the end of the day, what's really important to you?
I'm not better than anyone else here. We can't succeed unless we're a team. That's why we have this 1R logo now (he shows me a pen)…it's all about One Ricart. I have 480 family members here. And each of those 480 go home to their own families. So if you want to calculate the amount of mouths I'm responsible to feed tonight, I want them to eat good. I want them to have a high quality of life. They have to enjoy coming to work here today and be able to enjoy time with their families outside of here when they go home.
How would you advise other high profile business owners in their BrandFace™ quest?
Number one, be authentic and live it 24/7. Don't play a role. Don't play a character. And second, you don't know anything, so shut up and listen to what people around you are saying.
Rick has a big personality, innate curiosity and the good fortune of absorbing knowledge and instincts from both Fred and Rhett. I not only caught a glimpse of the genius behind Fred Ricart as he executed a delicate balance of discouragement and encouragement regarding his son's involvement in the business—I also came to understand how Rick brings his own customer-centric focus to the forefront. Ricart's slogan is 'Family Owned-People Driven'. And with this most recent BrandFace™ at the helm, I have no doubts that his 480 'family members' will indeed reap the rewards.
Interesting in seeing more BrandFace™ interviews and great marketing examples!  Sign up to receive my BrandFace™ Star of the Week e-postcard!
Follow @brandfacestar on Twitter!
Follow @rickricart on Twitter!