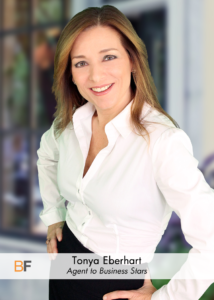 Tonya Eberhart is a speaker, author, and Branding Agent to Business Stars. She grew up in Dawsonville, a small North Georgia town best known for making moonshine and fueling the racing industry.
After she graduated from high school, her wild ambitions landed her a theatre scholarship at a local community college, followed by a move to Tallahassee, Florida to attend the renowned theatre program at Florida State University. But she was soon to discover that she was out of place in the quirky, eccentric world of theatre, so she used her acting skills for a more suitable purpose—vacuum cleaner sales.
While selling vacuums door to door to pay for her education, she happened upon the home of a radio station engineer who recommended her for a sales position, which began an eighteen-year journey in radio.
During this time, Tonya observed business owners who were featured in their own advertising and positioned as local celebrities in the market. She was intrigued by this, and determined to help others achieve that same success. She hand-picked clients whom she felt she could turn into the next radio star, and dragged them into the studio to record their commercials. This was just the beginning of helping many build their personal brands across multiple marketing platforms.
Several years and many successful brands later, she founded BrandFace®, a personal branding firm comprised of a book series, speaking series, and personal branding program that is designed to help serious professionals differentiate themselves.  Their mantra is, "People don't do business with a logo. They do business with a person."
She has authored four books on the subject of personal branding, but focuses primarily on the real estate industry.  
BrandFace®

(the original book written for business owners)

BrandFace® for Real Estate Professionals

(with co-author, Michael Carr–international  bestseller on Amazon)

BrandFace® for Home Improvement Professionals

(with co-author, Ron Greenbaum)

BrandFace® for Entrepreneurs

(with co-author, Michael Carr–international bestseller on Amazon)
Tonya is known for her clever marketing instincts, loyalty and rabid desire to help you take out your competition. She has developed a great track record of helping her own clients rise to successful levels while utilizing multiple platforms to display their brand and expertise. She is steadfast in her desire to work with those who are truly committed to what it takes to be the face of their brand and an authority in their industry.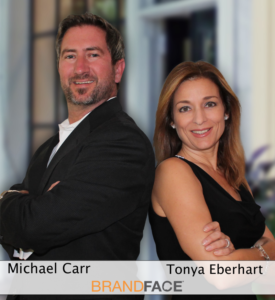 Michael Carr has been an auctioneer since 1991 and has sold billions of dollars in auto, heavy equipment, land, commercial and residential properties.
Since becoming a licensed real estate agent in 1994, Michael has been actively involved in the sale of over 74,000 homes and licensed in as many as 27 states in the continental U.S. as a broker and an auctioneer. Overall, he has conducted over 7,800 auctions throughout the last 26 years. 
Michael met Tonya in 2013 when he became a client of BrandFace. He was intrigued by her mantra, "People don't do business with a logo. They do business with a person." Immediately, he put her exclusive personal branding concepts to work at his own brokerage, and as a result, his business quadrupled over the next year.  On the heels of that success, they decided to co-author BrandFace® for Real Estate Professionals and BrandFace® for Entrepreneurs, both of which became #1 international bestsellers on Amazon.  And today, he is a partner and the COO of BrandFace®.
Today, Michael and Tonya bring personal branding solutions to business professionals across the globe, teaching them the same principles he has used to become a recognizable local brand.  Michael is known today as the Abundant Life Broker, and teaches business owners, entrepreneurs and real estate professionals how to brand and market themselves in order to achieve an abundant life. 
Michael's energy and passion for his craft is undeniable, which brings a rich understanding of what it takes to be a BrandFace® and to reach the coveted top position in your market and niche.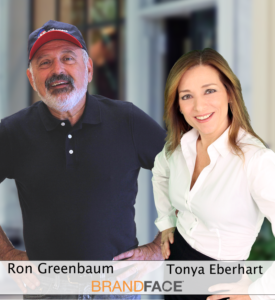 Ron Greenbaum is The Basement Doctor and co-author of BrandFace® for Home Improvement Professionals.  He has more than 30 years of experience in the basement waterproofing and foundation repair industry. He is the co-owner of The Basement Doctor in Columbus, Ohio, and Mr. Basement in Baltimore, Maryland. He is also co-owner of Nash Distribution, a supplier to foundation repair, basement, mold and crawl space contractors across the United States and Canada.
From 1994-1996, Ron served on the ethics committee for the National Association of Waterproofing Contractors for two terms and helped to create the Code of Ethics and Standards of Practice for the basement waterproofing industry in North America.
In 1999, Ron introduced the national trademark, 'The Basement Doctor', and continues to be the face of that trademark, appearing in hundreds of major advertising campaigns for print, radio, television and web. He is recognized nationally as an expert in the waterproofing and foundation repair field, often consulted by leading industry publications ad websites for trusted tips and expert advice on home improvement projects.
In 2009, Ron was asked to participate in The Columbus State College Business Program's Leadership Speaker Series. He spoke to students, college employees and the general public about how leadership is acquired, and what leaders look for when selecting individuals for their company. It was that speech which inspired this book.
It is possibly Ron's philanthropic contributions which stand out most. He has supported many charities and community efforts, including Habitat for Humanity, Mid-Ohio Food Bank, Special Olympics, Nationwide Children's Hospital, Wexner Heritage Village, Autism Puzzle, Honor Flight and the Ronald McDonald House to name a few. Ron's love for animals has brought a multi-year partnership with the Capital Area Humane Society in Columbus, and the launch of a local TV program called 'Find A Friend', which promotes pet adoptions and is in partnership with a local NBC-TV affiliate.
His professional accomplishments include being the recipient of a Consumer's Choice Award Winner (multiple years), a Small Business of the Year Award, Better Business Bureau Torch Award Winner, Angie's List Super Service Award Winner, CEO Magazine's '15 Business Superstars', and Smart CEO's 'Top 100 Best Run Companies' Winner. The Basement Doctor was also nominated for a Small Business Award.