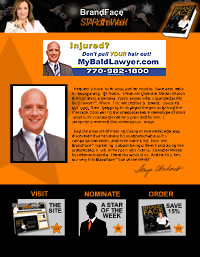 Love great marketing ideas & freebies?  Sign up for BrandFace© Star Alerts!  It's an e-postcard that is sent to BrandFace© fans (usually just once or twice a month), featuring excellent personal branding examples and tips–and my BrandFace© Star of the Month.
If you're interested in becoming the next BrandFace© Star of the Month, here are the details:  Winners are chosen from all areas and all market sizes (from local to international), and are based on the following five criteria.
Creative Personal Branding Idea
Clear Positioning and Point of Differentiation
Execution of the Idea (from imaging to functionality)
Represents Authenticity of the Brand
Multi-Platform Consistency
If you'd like to nominate yourself or another BrandFace© for Star of the Month, click here and email me.  And remember to sign up for the BrandFace© Star Alert below!